MuppetBoy's
Worlds
Albia Prime (February 2022)

I got tired of starting new worlds and having to reinstall cobs.
Starting with Eden, I added Slink's Basic Starter Scripts #1
This allows up to 24 creatures and allows all adults to mate, and all species breed.
I added a whole bunch of my favourites, including a great many of my own.
This world has everything you need to enchance gameplay and just get started.
There are two sources of grendels and an ettin maker.
There are many food sources, extra rooms and extra toys and music makers.
Enjoy!
>>download<<
Sneak preview below: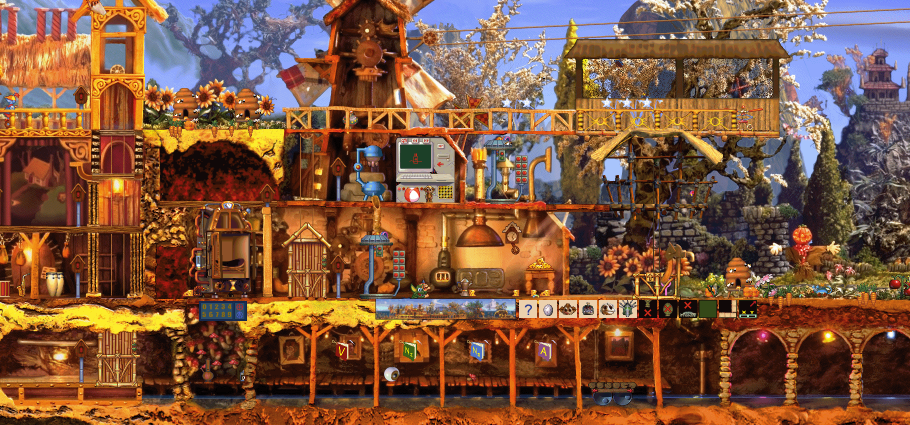 Arcadia (February 2021)

I'm not exactly sure when I started this project, but it has not been finished, despite my releasing many cobs for it.
It is basically a modified world, using several cobs to make it idyllic but still with dangers.
It has a classical greek flavour and many pre-installed cobs.
Zeruko (August 2008)
(once called Nualbia)
This time I'm making a proper world with its own sprites etc. Here is a map of the world:
As you can see there is a open woodland to the west full of fruit & flowers, bounded by a small sea.
Centrally there is a valley in which there is a large forest with an extensive treehouse town.
There's a tall stone building containing most of the tech.
In the east is a lake then a tropical island containing a pond.
Underneath the woodland is the main burrows, beneath the valley is the spore ettin and macro grendel mothers.
Note the sun and two moons, and general lack of water, and many plants.
See this page for more information and the download.
NEO WORLD (April 2003)
This is a modified version of the original Albia, several lifts and plants have been moved to make them more convenient.
The grendel mother and many weeds have been moved to the island.
A few objects have been removed and many others have been added especially food cobs.
All required sprites and wave files are included in the zip.
>>download<<
BABY WORLD (May 2002)
This modified world has scripts allowing norns of *any* age to breed, to make breeding quicker.
Although to breed younger norns you will need to use the modified norns which are also provided in the zip as .exp and .gen files.
They are banana norns called Fanny and Willie (because I'm just that mature)

This was a part of a project that I began to have a variety of fluffy themed norns including Munchkin, Dwarf and Fairy norns co-existing.
>>download<<