Blond & Brunette
Norns



These norns were made to fix the inconsistency in the Horse norns.
To create a blond partner for the regular female blonde norns; and also a brunette partner for the brown-haired male.
>>> DOWNLOAD BLOND MALES HERE <<<

>>> DOWNLOAD BRUNETTE FEMALES HERE <<<

For those who are interested, I used Paint Shop Pro 9 To edit the hair colour, I used Colorize at Hue 45 and Saturation 227 then I increased Brightness by 50 and Contrast by 20 twice.
Creating the brunette hair colour was much easier, I simply decreased Brightness by 120 and increased Contrast by 40.
In case you forgot to backup the original Horse sprites, you can download them here:
>>> ORIGINAL HORSE NORN SPRITES <<<
------------------------------------------------------------------
5th January 2011
Now you can download blond and brunette norns as separate breeds. Brunettes are breed 2 and Blondes are breed 3.
Breed 3 is usually reserved for the similar looking Santa norns.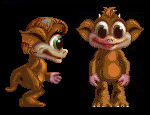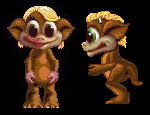 >>> BLOND AND BRUNETTE NORNS <<<