COHORT 2

This is the second cohort of 26 generations named alphabetically by generation.
Generations 54 to 69 have been lost.
Use the table below to find downloads, pictures and more details.
January to May 2003
Read on to see family trees and stories about my norns.
Generations 43 to 49
The fourth era begins with the introduction of Yippy, the first new norn for many generations.

Yet another plague left only Yin and Zaph

Yin and Adel die from unknown causes. Both old, eight hour aged Zaph and Yippy begat Art. As Zaph is so old, he was artificially kept fertile using cobs and BORG.
Zeph was created posthumously from Yunti, Aklia was created posthumously to Zen and old Yippy.

Art grew to child stage at just twenty three minutes old! Eibell was adult at forty two minutes. Bulb was born to Yippy when she was 12h 15m old

Buffin almost slept herself to death. Though she and her mother seem to have no mutations. The unnamed purple norn was born and died without me being present, so I cloned it as Cayli. But Cayli wouldn't eat and died.

Darcy, Eansi & Eibell were created at same time (Darcy was created later from their genetic father). Darcy was initially placed in wrong generation, leading to some norns with names out of alphabetic sync.

Art impregnated Dazy at 13 and a half hours old!! He died aged 15h 29m with fourteen living descendants.

Filli and Fergus were killed by the same plague that killed Dazy and Eelia, but were later cloned.

Bulb died naturally aged 13h 8m.

Grizz is probably the most inbred norn I've ever known of, with his father, grandfather, great-grandfather and great-great-grandfather all being Bulb! This means he is probably nearly identical to him genetically.
Generations 50 to 59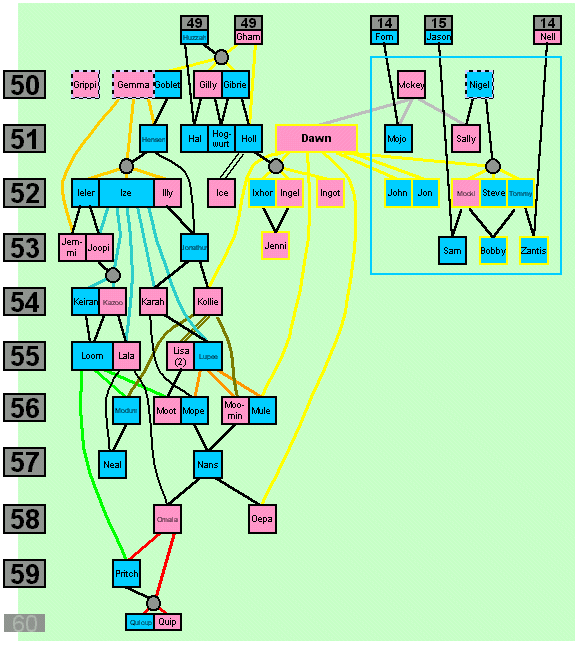 Grenadine's health was naturally at 82%. She died but I cloned her, only to subsequently die again – cause mysterious.
Gilly had trouble giving birth so was C-sectioned, for both births - a mutation prevents her from giving birth.
Gemma was a child by 15 minutes, maybe even earlier. She was adult before 1h 10m, registers as pensioner by BORG when 2h 17m.
Grippi seems to have poor Oestrogen production

The immortal Dawn (at five hours old) was imported as only three males left: Hogwurt, Holl and Goblet

The section in blue is an old *Super* family bred from older generation norns and Dawn's family.
It first was in power around generation 14, but has been frozen on my hard-drive since.

Jonathun died mysteriously.

Dawn gave birth to Kollie aged 23h 30m!!
Karah and Joopi created artificially using CGM as no females left! (except the immortal Dawn) Only the males Ize, Jonathun & Ieler survived.

Lance was born & died when I wasn't there, so I cloned him back.
Neal has a mutation preventing him from becoming fertile when his testosterone levels are high.

Dawn begat Oepa when over 34 hours old!


Generations 60 to 64


Ruffle and Rode were conceived and born within a split second of each other

Sidney still adult at 13h 40m, does not lose glucose via hexokinase the mutation originated in Art of generation 44!

Ruffle Sari, Sidney Tilly and Tanya all exported as they were not dying of old age!

Dawn had Timmy at around 58 hours old.

Ulver was killed by an early version of Coconut Palm cob, this I how I learned the hard way to put "kill ownr" in a 1 script not a 17.

Generations 65 to 69

Viadu and Volly were killed by a computer crash, luckily Womie was recovered as an embryo.

Wier was killed in second computer crash.

Feral Run:
Uwen, Vlad, Yonk, Took, Welp, Wuppy, Xytol, Xaza and Xo died
Yoom, Xeff, Xull and Yon were born & died (several of unknown gender)
Zoip, Atkin and Zikk were born.
Snuff, Mojo, Vern and Villa were exported as they were over 12h old and I needed a breeding population.